Free Meal at Carters Landing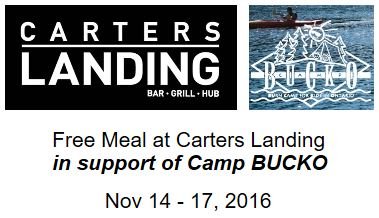 You're invited to Carters Landing for dinner, on us!
From November 14th through to the 17th, Carters Landing Restaurant in the Beach will be offering free meals (dinner only; complimentary meal includes an entrée, appetizer and dessert)! All free – no strings attached and no catch! The idea is to get the community together in support of a great cause – Camp BUCKO.
Camp BUCKO provides an opportunity for children recovering from burn injuries to meet other children who share similar feelings and experiences in a camp environment. Camp gives these children temporary freedom from the everyday frustrations of being burned, a chance to share their stories and to bond with each other.
There will be lots of friends, family and community members out for the events – including the local Beach fire department, who has been working to raise awareness and funds for Camp Bucko for many years.
Hope to see you there!
DeClute Real Estate is proud to present Light Up The Beach 2016 in support of
The Michael Garron Hospital Foundation (MGH).
Join Santa Claus and his guests at the foot of Leuty Avenue in The Beach as he magically illuminates the boardwalk with 80,000 lights! Last year DeClute Light Up The Beach raised over $2,000 for MGH, and this year's proceeds will support Michael Garron Hospital's Mental Health and Addiction Services.
Everyone is Welcome! Bring your friends!
When?
Friday, November 25, 2016 at 6:30 p.m.- 7:30 p.m. (Lighting ceremony begins at 7p.m.)

Where?
Leuty Lifeguard Station, The Beach, Toronto (at the bottom of Leuty Ave)